Pioneers: François Amirault and Maire Pitre
François Amirault dit Tourangeau was the first and only person to settle in North America to have this name. We do not know exactly when he came to Acadie or in what capacity (colonist, soldier or engagé). Since he has a "dit" name it has often been assumed that he must have been a soldier who stayed in the New World after his service was complete. Tourangeau however could simply have been a nickname to indicate that he was originally from Tours or Touraine in France. Unfortunately, DNA tests carried out in 2004 could not link him to any Amirault families currently living in that area of France.
Some authors have speculated that he arrived on L'Oranger, which sailed from La Rochelle in 1671. This however has not been confirmed. The first census of Acadie was completed in 1671, and our ancestor's name does not appear in that document. This could mean that he either was not yet in Acadie, or it could be another indication that he was a soldier. Unless more documents surface, we may never know more about François's life before he came to Acadie.
One interesting bit of information that the 1671 Census does include is the name of François's future wife, Marie Pitre who was born at Port Royal in 1666.

This reads: (edge tool maker) Jean PITRE, age 35 years, wife Marie Pesselet age 26 years, their three children: Marie age 5 years, Catherine age 3 years, and Claude age 9 months. Live stock, one cow.
François appears in the 1686 Census as François Tourangeau, living in Port Royal. He is listed as being 42 years old (born 1644) and married to Marie who is listed as 22 years old and they have one daughter, Jeanne who is listed as being 2 years old. The ages of the parents seem suspect as François would be 20 years older than Marie who should actually be listed as 20 years old in 1686 if the census of 1671 is correct. This would  then make François 22 years her senior. This seems a mistake, not so much because of the large difference in ages between François and Marie, but more so because we know that the patriarch lived until sometime after 1737. This would mean that he lived to 93 years of age which, though not unheard of, would have been quite unusual at that time.
The 1686 Census also indirectly tells us that François and Marie would have been married at Port-Royal around 1683 or 1684, but no record survives of this union. They have one young daughter, who is named Jeanne, but in later documents is  referred to as Marie. They have no other worldly possessions, no gun, no tilled land, no cow, no sheep, which this census did take into consideration. According to this census, they live next to the family of Claude Bertrand, their in-laws, who are listed as residents of Cap-Sable.

In the 1693 Census, François and Marie are now living at the River of Port Razoir and have 4 children (not named) and 1 gun. They likely moved to Cap-Sable either at the same time or shortly after their in-laws, Claude Bertrand and Catherine Pitre. According to Father Clarence d'Entremont, they likely moved around 1688 or 1689 (Histoire du Cap-Sable de l'An Mil au Traité de Paris, Vol 3, page 1059).

Acadians are mostly known for their distinctive form of lowland farming of reclaimed salt marshes around the Bay of Fundy. This required them to invest significant time and effort into collaboratively building extensive dykes and aboiteaux systems. However, our ancestor, and those Acadians who settle around Cap-Sable, survived mostly from fishing, hunting, and trading. In some documents, François is referred to as an accomplished navigator. Cap-Sable would have been an area where his particular skills would thus be put to better use.
Around 1699, François was living in nearby Baccareau, where he would become a significant landowner, according to Father Clarence d'Entremont (Les cahiers de la société acadienne, Cahier #14, Vol 11, no. 4, Mar 1967, page 167). These are the lands that we will later see him selling to his children who remained in the area in 1737.
In the 1708 Census, François and his family are still in Cap-Sable area with nine children (family number 4). Their eldest daughter, Marie (-Jeanne) is married and lives nearby. She has formed her own family (family number 6). She has 5 children and is married to Joseph d'Azy, son of Philippe II Mius (d'Azy) d'Entremont and an un-identified First Nations woman. Marie and her husband would eventually have 13 children and are the source of all the families bearing the name Mius, Miuse, Meuse and other variations in North America.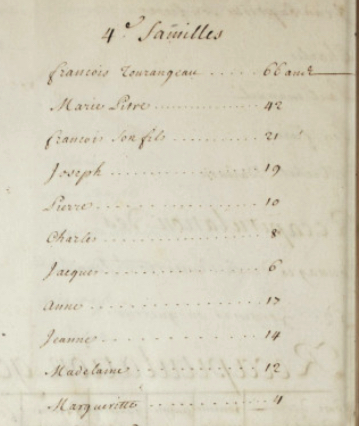 At this point, François disappears from census documents, but we can trace his whereabouts from baptismal and marriage registers for the parish of St. Jean-Baptiste, Port-Royal. Between May 22 and 23 of 1705, eight of François and Marie's children were baptized (Charles, Jacques, Marguerite, Anne, Joseph, Jeanne, Magdaleine, Pierre). Both parents are listed as being habitants of Cap-Sable.
François and Marie are both listed as inhabitants of the East Coast of Acadie in 1714 on the marriage registration for François (son) and Magdelaine Laure. They are still on the East Coast of Acadie in 1718 according to the marriage registration of Joseph and Marguerite Laure. In 1719 they are simply referred to as habitants of the coast in the marriage registration of Magdaleine and Jean Comeau. In the 1723 marriage registration of Marguerite and Jacques I Mius de Pobomcoup, François and Marie are said to be living in Cap-Sable. By November 1725, they are both listed as living in Cobequid (present day Truro), in the marriage register for Jeanne and Jacques Giroard. In 1726, they are still listed as living in Cobequid in the July marriage registration of Pierre and Anne Brun, and on both the August 1726 marriage registrations of Jacques and Jeanne Lor, and Charles and Claire Dugast. (source of marriage registrations information http://novascotia.ca/archives/virtual/acadian/archives.asp?ID=1118)
After 1726, Marie Pitre disappears from records, age 60 years. However, we have evidence that François would live another 11 years. The final document which has been found indicating that François is still living in Cobequid on 15 Apr 1737, is a bill of sale for his land in Cap-Sable (Baccareau), which was sold to his children for 100 francs. As he was illiterate, he signed this document with an X, which was notarized by Nicolas Gautier. After this, François also disappears from history.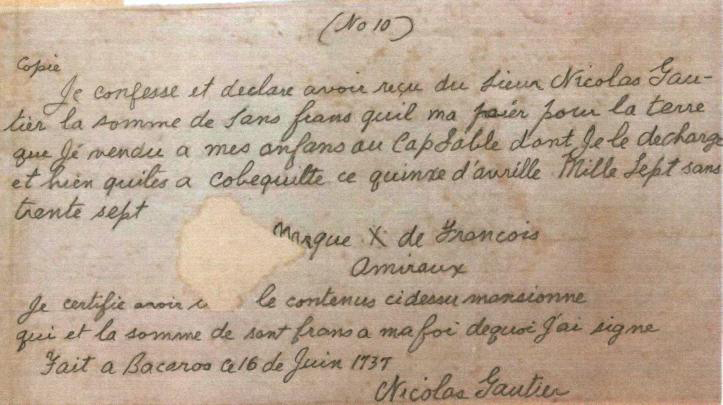 François Amirault dit Tourangeau and Marie Pitre had 11 children:
Generation 2
1. Marie-Jeanne Amirault: b/abt 1684, Port Royal, Acadie. m1/ abt 1699 – Joseph Mius d'Azy (Port Royal), with whom she had 13 children, 4 of which perished at sea as they were being transported to France during the deportation. This is the pioneer family that gave rise to all families with the name Mius presently in North America. m2/ 29 May 1731 (Port-Royal) – Jean Benois (Cobequid). Though Jean and Marie settled in Cobequid after their mariage, they are found in the 1752 census conducted on Île-Royale, present day Cape Breton, by Sieur de la Roque.
2. François (fils) Amirault: b/ abt 1687, Port Royal, Acadie. m/16 Jan 1714 – Magdelaine Laure. They had five children together. He was deported from Port Royal, in December of 1755, to Connecticut with his entire family. They would spend 12 years in exile. On the 8 Feb 1766 (francois amiraux), he is among a number of Acadians in Boston asking to be sent to Canada (Québec). On 2 Jun 1766 (francois a miros), a petition is sent to the Chamber of Representatives with a list of 890 people asking to be transported to Canada. François, his wife and two of their children are on that list. The François that appears on these petitions is most likely François III, the son of François II. Only a few boats were provided, so many Acadians from Massachusetts, Connecticut and New York decided to make the 800 km trip on foot. Those that survived this ordeal, settled in St.Jacques-de-l'Achigan, and l'Assomption, Québec starting in in 1767, where they became known as, Mireault.
3. Joseph Amirault: b/ 18 Dec 1689, Kakaouit, bap/ 22 May 1705, St. Jean-Baptiste, Port Royal, Acadie, m/ 30 Jan 1718 – Marguerite Laure. They had ten children together. Deported from Port Royal, in December of 1755, to Connecticut with his entire family. In a petition dated 1763, he appears among those asking for transport to France. His wife and three of his children are with him. This petition would not be granted. A group of 50 Acadian families made the trip to Montréal on foot and settled in St.Jacques-de-l'Achigan and l'Assomption, Québec in 1767, where they became known as Mireault. Joseph, 78 years old, and his wife, were among those who successfully made the trip. d/ 22 May 1774, 85 years and was buried the next day in St. Sulpice, Québec
4. Anne Amirault: b/ 14 Dec 1691, Kakaouit, bap/ 23 May 1705, St. Jean-Baptiste, Port Royal, Acadie, m/ 12 Jan 1717 – Jacques Leger. They lived at Port-Royal and had twelve children together. In 1721, they moved to Petitcoudiac. In 1752 census, Anne appears as the widow Léger and still has 4 sons and 2 daughters with her. According to father Clarence d'Entremont, citing the genealogist Placide Gaudet, Anne and Jacques are the ancestors of all the Léger in New Brunswick.
5. Jeanne Amirault: b/ 4 Nov 1694, Port-Razoir, bap/ 23 May 1705, St. Jean-Baptiste, Port Royal, Acadie, m/ 26 Nov 1725 – Jacques Giroard. They lived at Port-Royal and only one child came from this union. d/ 14 Jun 1740, Annapolis Royal.
6. Magdaleine Amirault: b/ 4 Mar 1697, Baccaro, bap/ 23 May 1705, St. Jean-Baptiste, Port Royal, Acadie, m/ 3 Oct 1719 – Jean Comeau, son of Jeanne Bourg and Pierre Comeau the elder also known as l'Esturgeon, who we will find again in the discussion of the Comeau family. They initially lived at Port-Royal, then moved to Chipoudy. They would have six children. d/ 17 Oct 1757 in Quebec.
7. Pierre Amirault: b/ 9 May 1699, Baccaro, bap/ 23 May 1705, St. Jean-Baptiste, Port Royal, Acadie, m/ 8 Jul 1726 – Anne Brun. He is said to be a resident of Beaubassin. The couple would first settle in Beaubassin, but at the birth of their first child, Théotiste – born 6 Feb 1732, the family had moved to Petitcoudiac. In the 1752 census we find the widow Amirault, who must be Anne. She has three sons and two daughters with her. Some of their children are found in Québec around the time of the expulsion. d/ between 1747 and 1752.
8. Charles Amirault: b/ 14 Jun 1700, Baccaro, bap/ 22 May 1705, St. Jean-Baptiste, Port Royal, Acadie, m/ 28 Aug 1726 – Claire Dugas. They had four daughters together. The entire family was deported from Bacarro, NS, in 1756. They were to be sent to South Carolina, but managed petitioned to stay in Massachusetts and seem to have been located in to Marblehead and Boston during their 10 years in exile. In 1767, Charles and his wife, along with four of their children, one of which had married while in exile, returned to Pubnico, with a small group of Acadians who had left Massachusetts, likely in a boat they had built themselves. They resettled near their former lands.
*9. Jacques Amirault: b/ 31 Jul 1702, Bacarro, bap/ 22 May 1705, St. Jean-Baptiste, Port Royal, Acadie, m/ 24 Aug 1726 – Jeanne Lor. They would have at least seven children together. d/ aft 1767, Butte-des- Amirault, NS. Deported from Bacarro, NS, in 1756, to Marblehead and Boston, Massachusetts with his entire family. They would spend 10 years there and then resettle near their former lands in present day Amirault's Hill, NS, in 1767. d/ aft. 1767 in Amirault's Hill, Yarmouth County.
10. Marguerite Amirault: b/ 9 Dec 1704, Bacarro, bap/ 22 May 1705, St. Jean-Baptiste, Port Royal, Acadie, m/ 30 Sep 1723 – Jacques Mius de Pobomcoup. They had seven children together. While in exile, in Walpole, Massachusetts, her husband died (28 Jul 1759) and is buried in Roxbury, in the Eliot cemetery, at Andrew Coyle Square at the corner of Eustis and Washington Streets, about ten miles from Walpole, Mass. She along with five of her children, were in the small group of Acadians who returned to Pubnico in 1767. This is the ancestral family of all d'Entremont families in North America today. d/18 Oct 1796, Pubnico.
11. Elizabeth (Isabelle) Amirault: b/ 1709, Cap-Sable, m/ 1730 – Antoine Aucoin (Cobequid). They had 8 children together. Antoine died in 1756. Elizabeth was exiled with her four youngest children in 1758, as part of the Grand Derangement. Her daughter, Ursule, died during the crossing. Elizabeth arrived in St. Malo in 1759. She lived in St. Enogat from 1759 until 1761. She was living with eldest son Michel in St. Lunaire in 1762. She lived in St. Enogat from 1763 until her death in 1766. Elisabeth is listed as Ysabelle Mirau on her death record. d/ 21 Jan 1766, in Didier-Saint-Enogat, Ile-et-Villaine, France. She is listed as the widow of Antoine Aucoin.