Generation 2 – Jacques Amirault et Jeanne Laure

Jacques was the ninth child of François dit Tourangeau Amirault and Marie Pitre. He was born on the 31 July 1702, in Cap-Sable, Acadie. The next day he was "ondoyé" (baptism done by a layperson in absence of a priest) by Sieur Philippe de Pobomcoup. On 22 May 1705, during a pastoral visit to the east coast, Jacques and seven of his siblings, were baptized by the Recollet missionary, Felix Pain of the Saint Jean-Baptiste parish at Port Royal. His godfather was Sieur Philippe Muis de Pobomcoup, the same man who had baptized him three years earlier. His godmother was likely his oldest sister, Marie (-Jeanne) Amirault, though the document only says "Amiraut".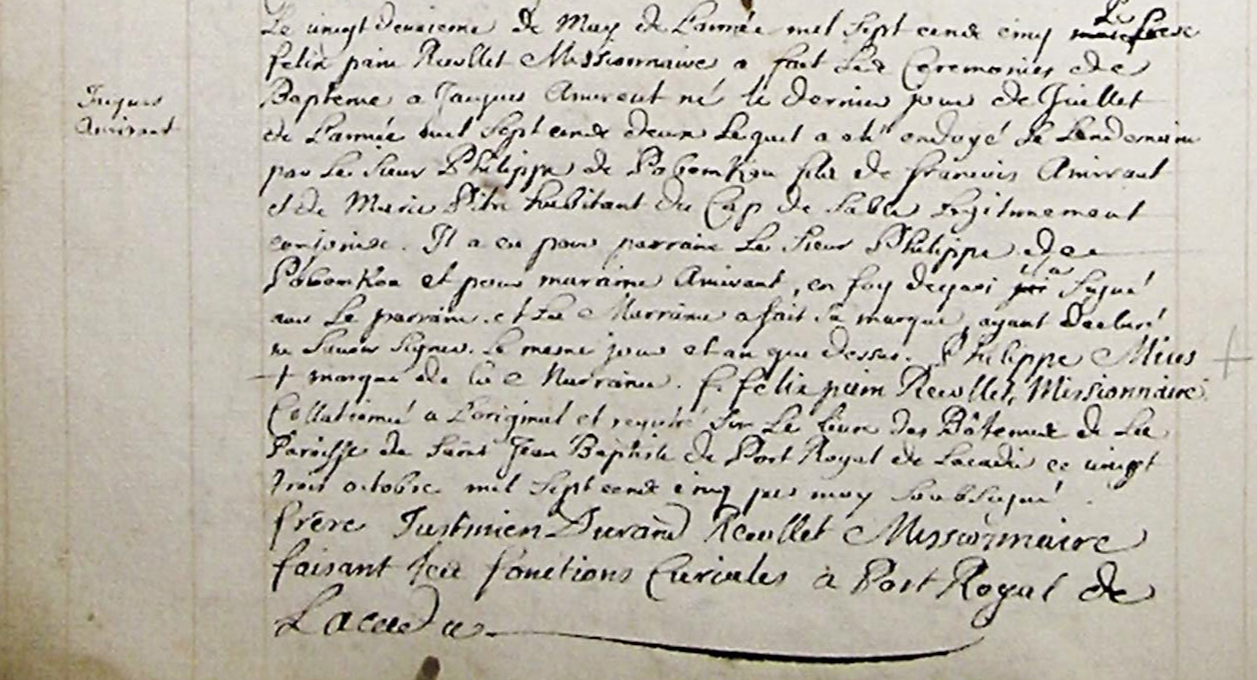 Three years later, Jacques appears in the 1708 Census taken at Cap-Sable along with other members of his family. He is 6 years old.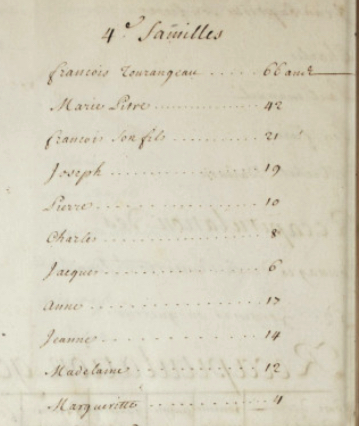 As a young man, we can assume that he most likely engaged in the same activities as other Acadians in the Cap-Sable area; namely fishing, hunting, and trading with the First Nations people and with the New England colonies, as well as perhaps a bit of subsistence farming.
At Port-Royal, on 24 Aug 1726, at the age of 24, he married Jeanne Lor (Laure), who was almost 19 years old. She was the daughter of Alexandre Lor and Francoise Pitre (actually Marie-Françoise Barrieau). From their union came seven known children. As father Clarence d'Entremont pointed out, there is a suspicious gap between the marriage in 1726 and the first known born in 1732, so there may have been other children but no record of them has ever been found.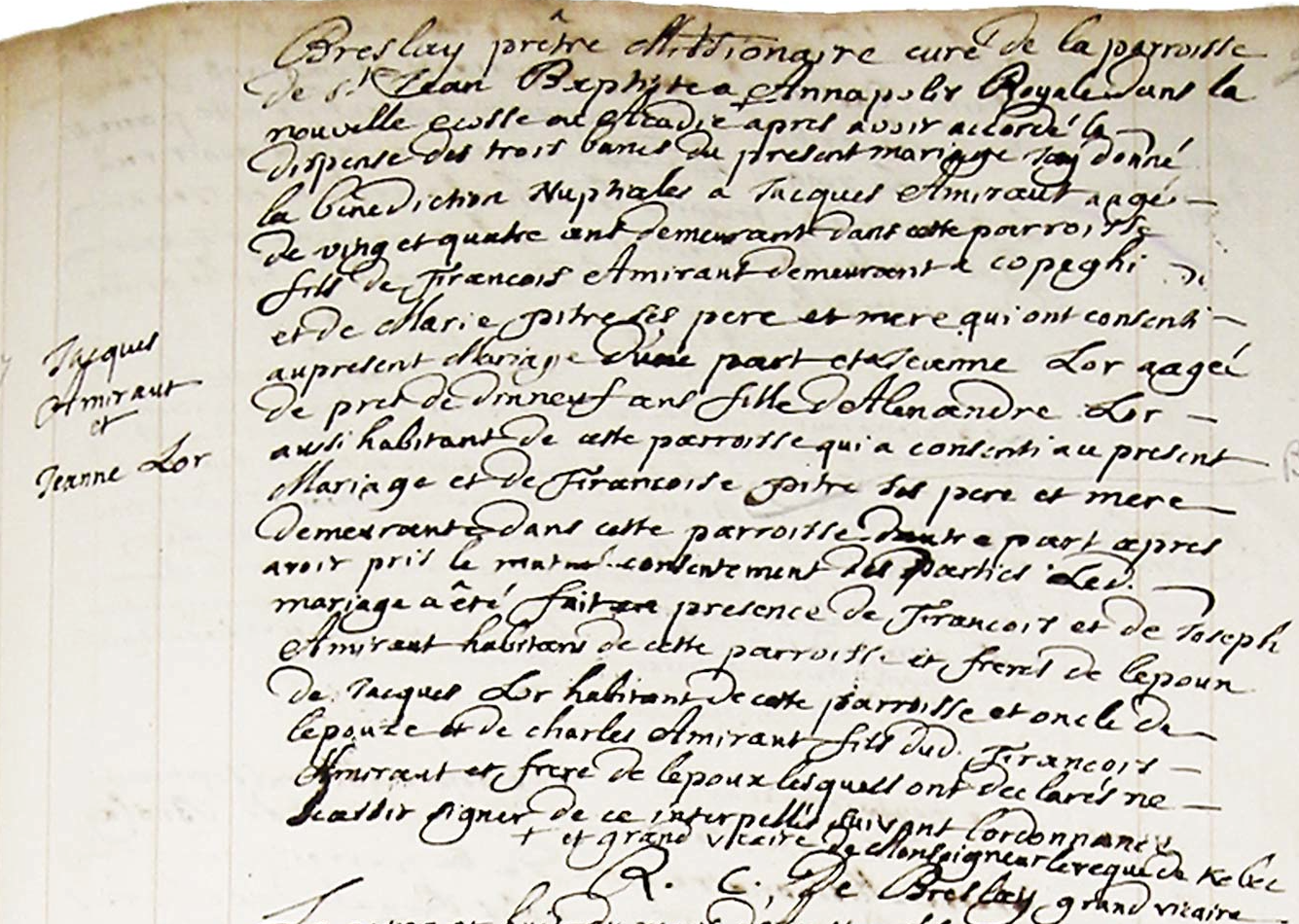 The Acadians at Cap-Sable were fairly isolated and autonomous compared to other Acadian communities. As a result, they had escaped the first wave of Deportations that had started on 10 Aug 1755. But, on the night of 21 April 1756, Jedidiah Preble, a captain of infantry in Waldo's Regiment, and 167 of his men swept upon the village of Bacarro as the Acadians slept. The soldiers were under orders from Charles Lawrence, the lieutenant governor and acting governor, of the colony of Nova Scotia at the time, to capture and remove as many Acadians as possible from the Cap-Sable area.
The soldiers burned 44 buildings, killed livestock and destroyed whatever they could not carry with them. 72 Acadians were taken prisoner including most of Jacques' family and his brother Charles' family. They were loaded onto the vessels under Preble's command. On April 24, the ships sailed for Boston. The fleet arrived between April 28 and 30, but had orders to continue on to North Carolina with their human cargo if the governor of Massachusetts refused to take the Acadians.
With the help of Thomas Hancock, a Boston merchant who leased some of his ships to the government of Nova Scotia during the deportations, Jacques and his group petitioned the government of Massachusetts, on 13 May 1756, to let them stay in a place that was known to them, where they felt they would be able to continue doing the work they knew best, fishing, in order to support themselves. His name appears as Jacques X Mirau, just before the name of his brother in-law, X Joseph [sic. Jacques II] d'Entremont.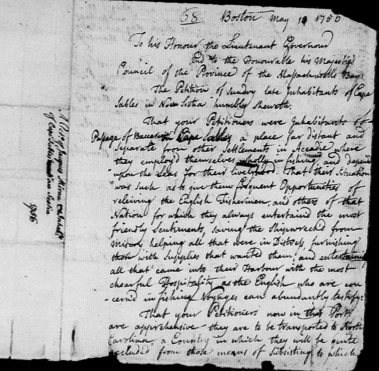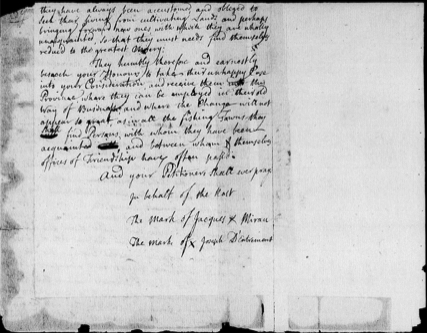 After a few tense weeks, it was agreed on 28 May 1756, that the Acadians could stay in Massachusetts.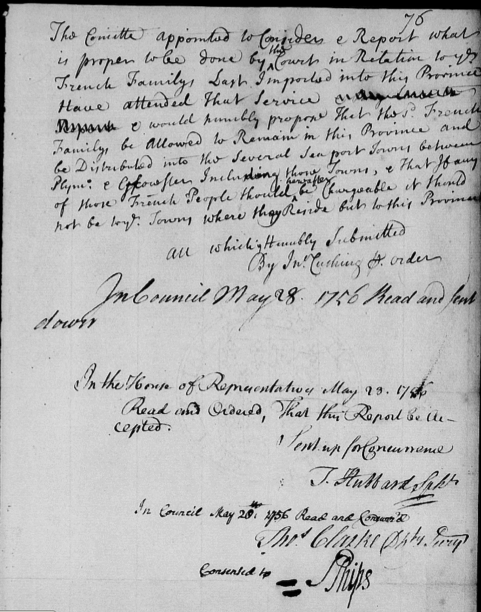 But Jacques and his family, the 4 Family below, would only spend a short time in Marblehead near the coast. Note that the family 3 is that of James (Jacques II) d'Entremont and Marguerite Amirault, sister of Jacques. They are also in Marblehead. Jacques II would die in exile on 28 Jul 1758, in Walpole, Massachusetts.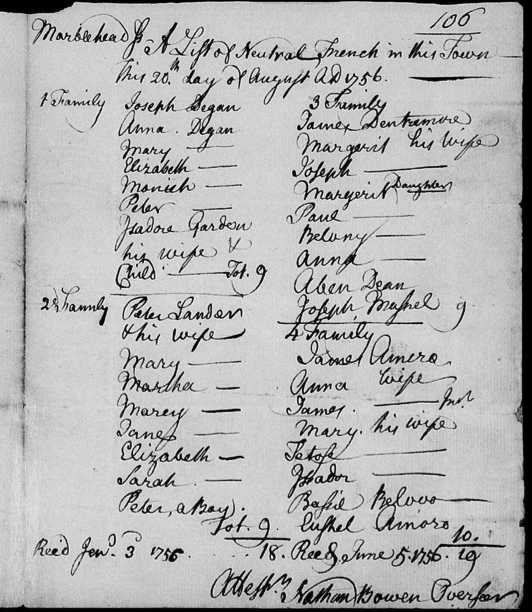 On 28 Oct 1756, Jacques entire family was moved from Marblehead to Medway, an inland farming community, by the Select Men on Medway. This situation would make their time in exile extremely difficult as they were expected to become crop farmers. An occupation they did not know.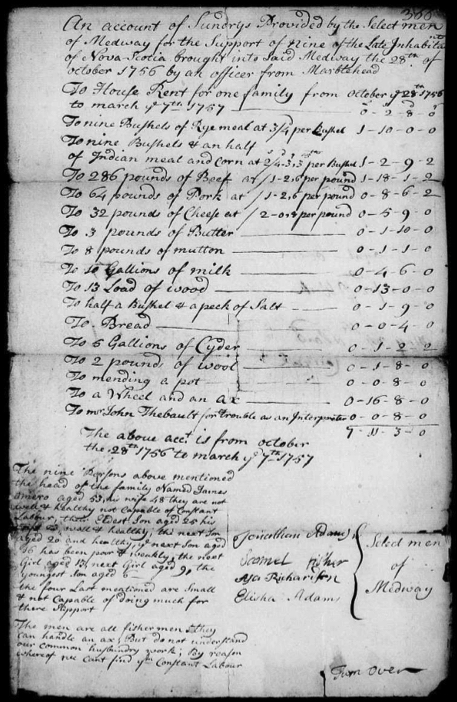 On 6 Mar 1758, the Select Men of Medway attempted to separate the family, which the parents "wholly Refusing to Let them Live from them". The sons are said to be "fishermen by calling and do not understand our husbandry business — except they can use an ax considerably well." This letter also indicates that the family had recently been relocated two miles away into a new house as the "French Family were Turned into the Street and we met with much Difficulty in Providing another house."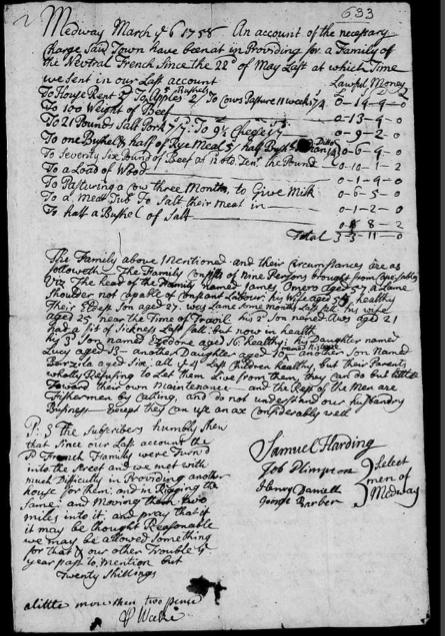 On 11 Sep 1760, the Select Men of Medway decide to separate the family group. Jacques and his wife Jeanne, along with youngest children, Anastasie and Basile stayed in Medway. Ange, Isidore and Ursule were sent to Wrentham, and Jacques II (son) and his wife Marie along with their son, Jacques III (grandson), were sent to Bellingham. A surprising bit of information in this letter indicates that Ange and Jacques II are away in Marblehead at the time of the move. They were likely there to fish in order to help support their families. This is surprising because the movement of Acadians within Massachusetts was controlled and if Acadians were found to be in contravention of this order, they were subject to floggings and other punishments.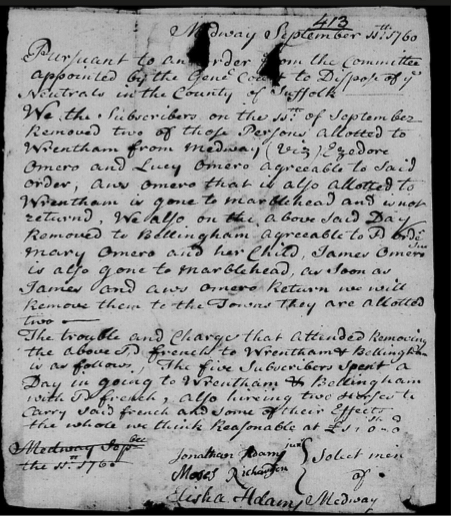 The Seven Years War between France and Britain, which had ostensibly precipitated the deportation of the Acadians, came to an end in 1763, with the signing of the Treaty of Paris. Acadians were now technically British subjects rather than prisoners. They began to gather in large numbers in places like Boston, where they petitioned for ships to take them away from the New England colonies, but these requests were not acted on. Leaving Jacques and his family in exile for another three years.

On 2 Jun 1766 the names of heads of families: Jacques and his sons, Jacques II and Ange, along with that of his brother Charles, appear on a list of 890 Acadians asking for ships and provisions to take them to Canada (Québec). This petition would not be acted on either.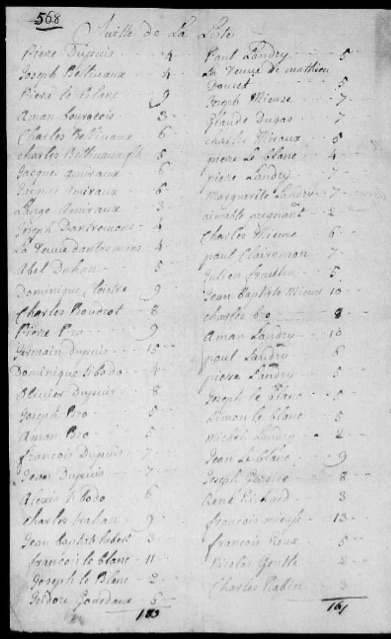 Ever resourceful, according to the late Father Clarence d'Entremont, a small group of about 60 Acadians, lead by "Captain Amiro" (probably Ange or Jacques II) got a permit to clear Boston harbour on 23 Aug 1766, perhaps on a boat that they had built themselves. Their nightmare was finally over. Their plan was to head for Québec. However, on a stop in Halifax, an English officer recognized them from assistance they had provided to him in the past. He assured them that they could return to the area of Cap-Sable with the guarantee that a priest would be sent to minister to their religious needs. As winter was approaching, the group probably took refuge in the remains of Charles de la Tour's old Fort Saint Louis, near the town of Villagedale, NS.
In the spring, they continued along the coast searching for an area that had not yet been claimed by English settlers. Jacques et Jeanne, and some of their children settled in an area now known as Argyle. His son, Jacques II settled in a place now called Butte-des-Amirault or Amirault's Hill in Yarmouth County, Nova Scotia.
Jacques died in the Cap-Sable area on an unknown date after the return from exile. He may be the "jacques amiraud" who appears in abbé Bailly's register, as the godfather for 5 year old simon alexis, a Mi'kmaq boy, baptised on 6 Aug 1769. If so, he would have been 67 years old at that time. However, that Jacques could also have been his son, Jacques II. There is no way to definitively determine which one of them was the godfather.

On the same date, Jeanne Laure, Jacques' wife, is the godmother of her grand-daughter, Marie (Suzanne), daughter of Jacques (II) and Marie Belliveau, said to have been born on 10 Apr 1769. She is not listed as a widow, so it seems safe to say that both Jacques I and Jeanne survived the deportation years. This however, is the point where both of them disappears from the historical record.
Jacques Amirault and Jeanne Laure had 7 known children. They are the ancestors of all the Amirault families in Southwestern Nova Scotia today.
Generation 3
Jacques (II) called Dittou Amirault, b. 11 Jun 1732, baptized 18 Oct 1732 in Bacarro by l'abbé de Saint-Poncy, m. Marie-Madeleine Belliveau, d. 30 Apr 1827. Jacques II and Marie had nine children, the first five, Jacques (III), Marie, Joseph, Natalie and Marie Suzanne were born in Massachusetts.
Marie-Josephte Amirault, b. abt 1734 in Bacarro, m. Simon d'Entremont, d. 9 Feb 1760 in Cherbourg, France. She was the only member of Jacques' family that was not sent into exile to Massachusetts in 1756, which lead father Clarence d'Entremont to speculate that in April of 1756, she was already married. Because we know that she died in Cherbourg, we can assume that she was part of the group of 40 families that gave themselves up to the Nova Scotia authorities at the beginning of the summer of 1759, after having experienced a particularly harsh winter of 1758-59 in the woods around Cap-Sable. The group consisted of 152 people. In June 1759, they were taken to Halifax and held on George's Island for four months. On 10 Nov 1759, the ship, Mary the Fourth, left Halifax with these Acadians. They stopped briefly in England on 29 Dec 1759 after a seven week crossing. Then, on 14 Jan 1760, they were taken to Cherbourg, France. After arriving, Marie soon gave birth to her only known child, Marie-Jeanne Charlotte, who was baptized on 27 Jan 1760. The birth apparently did not go well and Marie-Josephte died 13 days later. Her child would follow her to the grave, 9 days later, on 18 Feb 1760. (Source: Histoire du Cap-Sable de l'An Mil au Traité de Parie (1763), by Clarence d'Entremont, Vol. 3, page 1067.)
Ange Amirault, b. 11 Jan 1736 in Bacarro, m. Natalie Belliveau, this marriage would be rehabilitated by l'abbé Bailly on 16 Aug 1769 in Cap-Sable, d. 7 Feb 1834 and is buried in the St. Pierre parish cemetery in Pubnico, NS. He was said to be 97 years old. Ange and Natalie had 9 children. Their first child, Joseph, was born in Massachusetts.
Isidore Amirault, b. abt 1741 in Bacarro, m. abt 1772, Baie Sainte-Marie, Marie-Josepthe LeBlanc, d. bet 1818-1823 Meteghan, NS (Note: In the 1818-1823 catalogue of families created by père Signogne, Isidore is a widower and living with his son, Gabriel, in Meteghan. In the 1823-1829 entry, he is deceased. Information found in, St. Mary's Bay 1818-1829 Compiled by Father Jean-Mandé Sigogne, transcribed by Leonard H. Smith, Jr., 1975). Isidore was one of the pioneers of the village of Pointe-de-l'Église, and settled in Meteghan, NS after his marriage. Isidore and Marie-Josephte had 3 children.
Ursule Amirault , b. abt 1744 in Bacarro, m. Isidore Belliveau, d. 14 Jul 1826 in Pubnico, NS. Ursule and Isidore had 4 children.
Anastasie Amirault , b. abt 1748 in Bacarro, m. aft 1770, Baie Sainte-Marie, Jean Doucet, d. Baie Sainte-Marie. Anastasie and Jean had 7 children.
*Basile Amirault, b. abt 1752 in Bacarro, m. 18 Oct 1774, Marguerite Doucet (likely the sister of Jean Doucet) at Baie Sainte-Marie, d. bet 1829-1844, Baie Sainte-Marie. Basile and Marguerite had at least 4 children. They settled in the New Edinburgh area in the township of Clare, NS.